TCA Drug Test
It is hard to overstate just how much drug testing strips such as the TCA urine test are in use. Testing strips can be found in any testing environment there is, from personal use to workplace testing and medical use. Their simplicity makes them a perfect addition to bulk testing devices such as dip cards and test cups.
Key futures of TCA Test Strips are:
They are low cost
99% accurate
results are shown after 5 min
easy to use
Forensic use only
Above all else, testing strips such as the TCA drug test are a reliable and cost-effective method of screening for drugs. Their simple design makes them easy to use and accessible to everyone whether they have medical experience or not. All you really have to do is follow the instructions below. Note that not following the instructions can lead to a TCA false positive test result.
The tca urine drug screen
Urine is known to be able to store drug traces making it a reliable source for drug tests. How long the drug will stay in your urine will depend on several different factors such as body fat and metabolism. However the main factor is the amount of drug intake, the more you take in the longer it will stay in your system.
Urine drug tests have been known to be reliable and easy to read within the designated time frame. This has in turn given drug test producers a field in which they can test for drugs. It is no different with the TCA drug test.
What does TCA mean on a drug test?
Tricyclic Antidepressants are powerful drugs used to, as the name implies, treat depression. They are among the first antidepressants to ever be created and because of this they suffer from several side effects not present in more modern treatments for depression. They are however powerful and quite effective.
There has been a long period of FDA approval for these drugs due to the side effects and the time it takes to observe them. However the FDA has approved the following drugs for use against depression:
Amitriptyline
Amoxapine
Desipramine (Norpramin)
Doxepin
Imipramine (Tofranil)
Nortriptyline (Pamelor)
Protriptyline
Trimipramine
Note that all of the mentioned drugs are considered part of the TCA family of drugs so if your medication has one of these drugs within it then you might be taking TCA drugs. When you see TCA written on a drug test it means that it tests for Tricyclic Antidepressants.
Instructions for Tricyclic Antidepressants drug test
Bring tests, specimens, buffer and/or controls to room temperature (15-30°C) before use, then just follow few simple steps.
Open: Remove the TCA Drug Test Stripe from its sealed pouch, or remove one strip from the canister, and use it as soon as possible. For the best result, the assay should be performed within an hour.
Dip: Hold the strip by the end, where the product name is printed. To avoid contamination, do not touch the strip membrane. Dip the test strip in the urine specimen for at least 10-15 seconds. Do not immerse past the maximum line (MAX) on the test strip.
Wait: After the test has finished running, remove the strip from the specimen and place it on a non-absorbent flat surface.
Read: Start the timer and wait for the colored band(s) to appear. The result should be read at 5 minutes. Do not interpret the result after 10 minutes.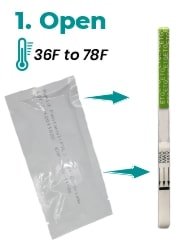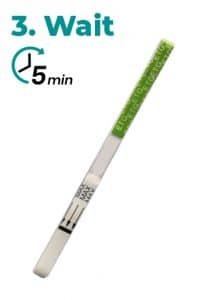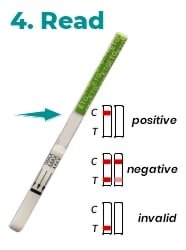 How to readtricyclic antidepressants drug screen