THC drug test – Marijuana drug testing
THC test strips like most other testing strips are a primary drug screening tool in use in almost all testing environments. Drug testing strips have for years now been the staple of drug testing in general. Their simple design has enabled them to be used in other testing devices like dip cards and testing cups.
Some of the key benefits for our test strips are:
99.9% accurate
Low price
Bulk price available
Easy to use
Results in 5 minutes
Same day FREE shipping
SAMHSA cut-off levels
For home and professional use
Forensic use only
THC drug test strips are used to search for any and all traces of drug located in your urine, they are a rapid testing device. Most importantly they are highly reliable and useful in most situations. Boasting a 99% accuracy rating you can be sure they will find any and all traces of drugs located in your urine.
Marijuana test strips
THC is the chemical that can be found inside of Marijuana and it is the substance responsible for the "high" feeling accompanying smoking Marijuana.
In several states now the drug has become legal and it is on its way to being completely legal in all states. It is advised that the drug only be used as a medicinal aid.
Recreational use of Marijana on an extensive level can still cause several health risks and it is advised that medical professionals always be contacted when using the drug.
If you have had experience with buying or using synthetic marijuana however we advise you to contact the local law enforcement.
False positive drug test THC
Like with all drug testing hardware if you fail to follow the provided instructions a false positive test is possible.
These happen if the product has not been kept as intended or used as advised. False positive drug tests are extremely rare, this is because of the simplistic design of the THC drug test.
Instructions for Marijuana urine drug test
Bring tests, specimens, buffer and/or controls to room temperature (15-30°C) before use, then just follow few simple steps.
Open: Remove the THC Drug Test Stripe from its sealed pouch, or remove one strip from the canister, and use it as soon as possible. For the best result, the assay should be performed within an hour.
Dip: Hold the strip by the end, where the product name is printed. To avoid contamination, do not touch the strip membrane. Dip the test strip in the urine specimen for at least 10-15 seconds. Do not immerse past the maximum line (MAX) on the test strip.
Wait: After the test has finished running, remove the strip from the specimen and place it on a non-absorbent flat surface.
Read: Start the timer and wait for the colored band(s) to appear. The result should be read at 5 minutes. Do not interpret the result after 10 minutes.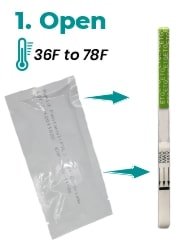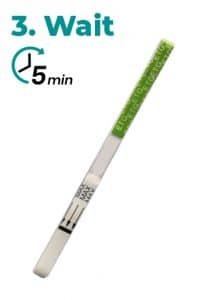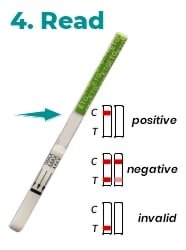 How to read thc test strips