Alcohol Saliva Test
Introducing our advanced Alcohol Saliva Test Strips, the most convenient and reliable solution to monitor alcohol levels quickly and accurately. Whether you need to ensure your own sobriety or want to keep an eye on someone else's alcohol consumption, our alcohol saliva strip test provides a simple and effective way to do so.
Key futures of Alcohol Test kit strips are:
They are low-cost, easy to read, and use
99.9% accurate
results are shown after 2 min
Forensic use only
Our alcohol saliva test is a cutting-edge solution designed to provide accurate and rapid results for monitoring alcohol levels in a non-invasive and user-friendly manner. Whether you're an individual concerned about your own sobriety, an employer implementing workplace safety protocols, or a law enforcement agency aiming to ensure road safety, our Alcohol Saliva Test offers a quick and convenient way to assess alcohol consumption.
Saliva alcohol screening
Gone are the days of cumbersome and time-consuming alcohol testing methods. With our alcohol test strips, you can obtain precise readings within minutes, eliminating the need for lengthy waiting periods and expensive lab analyses. Our test strips are engineered to be highly sensitive, enabling the detection of even trace amounts of alcohol in saliva, guaranteeing reliable and consistent results.
Easy to use and portable, our alcohol test strips can be carried with you wherever you go, providing an on-the-spot assessment of alcohol levels. Whether you need to ensure compliance with sobriety regulations or simply want to maintain a safe environment, our alcohol test strips are the ideal solution.
Join the ranks of satisfied individuals, employers, and law enforcement agencies who have already embraced the convenience and reliability of the Alcohol Saliva Test.
For those seeking more comprehensive testing options, we also offer our EtG Alcohol Test Strip. This unique test strip is specifically designed to detect the presence of Ethyl Glucuronide (EtG) in urine, providing an extended window for alcohol detection. With our EtG test strips, traces of alcohol can be detected in urine up to 80 hours after consumption. This makes it an excellent choice for individuals or organizations that require more detailed alcohol monitoring.
Whether you choose our Alcohol Saliva Test Strip for rapid results or opt for the EtG Alcohol Test Strip for extended detection capabilities, both products ensure accuracy and reliability to meet your alcohol testing needs.
Fast and simple testing process for Alcohol Saliva Test Strips
Allow the test to equilibrate to room temperature (15-30 C) prior to testing.
Avoid from placing anything in the mouth for fifteen (15) minutes prior to the beginning of the test. This includes non-alcoholic drinks, tobacco products, coffee, breath mints, and food, etc.
 Spit the saliva into the collection cup.
Open the foil package and remove the test dipstick. Observe the reactive pad on the end of the test dipstick. If the reaction pad has a blue color before
applying saliva sample, do not use.
Saturate the reactive pad with saliva from the collection cup or by applying saliva directly to the pad. (It usually takes 6-8 seconds to be saturated.) Start timer immediately after saliva application.
Read result at two (2) minutes. Compare the color of the reaction pad with the color chart on foil pouch to determine the relative blood alcohol level.
How to use Alcohol urine test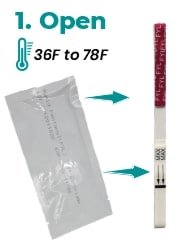 How to read ALC saliva test