What is a 5 panel drug test?
The 5 panel drug test DOT Drug Test is a set of obligated drugs that need to be tested for any job that is in connection with the Department of Transportation.
Some of the key benefits for our device are:
Easy to use
dot drug and alcohol test
Results in 5 minutes
Low price
Bulk price available
Same day FREE shipping
SAMHSA dot drug test cutoff levels
For home, and DOT professionals use, dot random drug test
These uniquely designed DOT drug test cups are capable of finding traces of five different drugs that are required by the Omnibus Transportation Testing Act and are in Dot Test.
What's on DOT 5 panel drug test?
| | | |
| --- | --- | --- |
| Drug Name | Cut-Off Level | Detection time |
| Amphetamines/AMP | 1000 ng/mL | 1-2 Days |
| Morphine/OPI/MOP | 300 ng/mL | 2-3 Days |
| Cocaine/COC | 300 ng/mL | 2-4 Days |
| Phencyclidine/PCP | 25 ng/mL | 7-14 Days |
| Marijuana/THC | 50 ng/mL | 5+ Days |
What kind of drug test is a DOT drug test?
If You're performing tasks on-the-job Which are safety-sensitive Based on the US Department of Transportation (DOT), like driving a truck, working on pipelines, operating a train or Repairing a plane, then you are subject to a DOT drug test.
5 panel drug test instruction
Few simple steps for using 5 panel drug test are listed below.
Open: The 5 panel drug test device should be held at temperatures between 36 and 78 degrees Fahrenheit. If this is followed the cup can be removed from the packaging slowly.
Collect: Urine should be administered into the open cup only once you are ready to use the device, otherwise, it should remain closed.
Check: Once the urine is in, the temperature strips on the cup should show a temperature of between 90 and 100 degrees Fahrenheit.
Wait: Once the urine has been administered and the cup closed, wait for 5 minutes at least, if you check the test sooner than that the results will be inconclusive.
Peal: Once the 5 minutes have passed you can read the results of the test by looking at the test strips membrane which is printed out on the cup itself.
Read: Following the instructions on how to read the test, take a look at the membranes of the strips, keep a close eye on the C and T markings.
How to use standard 5 panel drug test cup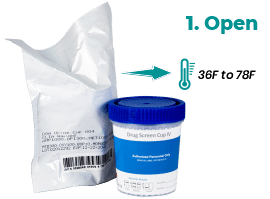 5 panel drug urine test
It cannot be overstated how these 5 panel drug test are important for a quality drug testing experience. Their design and function offer the user an easy-to-use DOT urine screen testing on any location.
These urine drug testing cups are perfect for personal use when you want to check for any drug traces. Here is the list of drugs that can be tested with the 5 panel drug test:
Oxycodone
Cocaine
Phencyclidine
Marijuana
How to read 5 panel drug test