12 Panel Urine dip card
12 Urine dip card is unique drug screening tools made with 12 different testing strips giving them a wide testing range as well as high accuracy.
Our multi drug test kit price is one of the lowest on the market with even better pricing for bulk orders.
Some of the key benefits for our device are:
FDA & CLIA
Easy to use
Results in 5 minutes
Low price
Bulk price available
Same day FREE shipping
SAMHSA cut-off levels
99.9% accurate
For home and professional use
This type of drug test dip card is a cost-effective alternative to other drug testing tools on the market. Its ease of use and intuitive user interface makes it perfect for personal use.
The strips adhere to SAMHSA cutoff levels, which makes them highly reliable and precise. This combination of features makes these drug testing devices compact and handy for all kinds of situations.
What does urine dip test show?
| | | |
| --- | --- | --- |
| Drug Name | Abbreviation | Cut-Off Level |
| Amphetamines | AMP | 1000 ng/mL |
| Barbiturates | BAR | 300 ng/mL |
| Benzodiazepines | BZO | 300 ng/mL |
| Buprenorphine | BUP | 10 ng/mL |
| Cocaine | COC | 300 ng/mL |
| Ecstasy | MDMA | 500 ng/mL |
| Marijuana | THC | 50 ng/mL |
| Methadone | MTD | 300 ng/mL |
| Methamphetamine | mAMP (or MET) | 1000 ng/mL |
| Morphine | OPI | 300 ng/mL |
| Oxycodone | OXY | 100 ng/mL |
| Nortriptyline | TCA | 1000 ng/mL |
How to use multi drug test dip card?
The 12 panel drug test along with the administered urine needs to be brought to room temperature or 36 to 76 degrees Fahrenheit.
In order to do the test, refrain from opening the packaged test until you are ready to use it and then:
Open: Remove the test from its packaging when ready and use it as soon as possible
Dip: Dip the sample pad area of the dipstick card in the urine specimen, submerging only up to the "MAX" mark of the dipstick strip or the edge of the dipstick card. Wait from 10 to 15 sec until you pull out dip card and go to the next step.
Wait: Place the device on a clean and level surface and wait for 5 minutes
Read: Following the instructions on how to read the test, take a look at the membranes of the strips, keep a close eye on the C and T markings.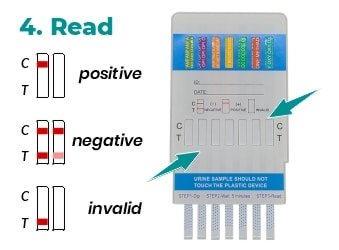 Reading Urine drug test dip card
What is a 12 Panel multi drug test dip card?
The inclusion of 12 different drug testing strips into one compact multi drug test dip card device makes this drug screening tool stand out like no other. Its exceptional accuracy rating makes it uniquely adept at bulk testing.
This in turn increases its accuracy and it's reliability.
You will find that the 12 panel urine dip drug test is perfect for personal use as well as workplace testing.
Even though the 12 testing strips and design of the testing device might make it seem a bit overwhelming, it is quite easy to use.
A set of short and to the point instructions are provided both here and on the label.
One quick read will make sure you have all you need in order to administer the test.