10 Panel Instant Drug Test
The 10 panel instant drug test is a bulk urine testing device perfect for both personal use and workplace testing. It is frequently used in a medical environment for urine testing as well.
Our 10 panel drug test cost is one of the lowest on the market with even better pricing for bulk orders.
Some of the key benefits for our device are:
FDA & CLIA
Easy to use
Results in 5 minutes
Low price
Bulk price available
Same day FREE shipping
SAMHSA cut-off levels
99.9% accurate
For home and professional use
It's unique design makes this a cost-effective and rapid screening device. With ten drug testing strips built in it is quite accurate and reliable.
This 10 urine drug test adheres to SAMHSA cutoff levels, making it the perfect tool for drug screens in a variety of environments.
Like:
workplace testing,
personal use,
or even medical environments.
They also boast a very long shelf life, able to sit in their package for about two years.
Whats on 10 panel drug screen
| | | |
| --- | --- | --- |
| Drug Name/Abbreviation | Cut-Off Level | Detection time |
| Amphetamines/AMP | 1000 ng/mL | 1-2 Days |
| Benzodiazepines/BZO | 300 ng/mL | 1-2 Days |
| Buprenorphine/BUP | 10 ng/mL | 2-6 Days |
| Cocaine/COC | 300 ng/mL | 2-4 Days |
| Ecstasy/MDMA | 500 ng/mL | 2-4 Days |
| Marijuana/THC | 50 ng/mL | 5+ Days |
| Methadone/MTD | 300 ng/mL | 1-3 Days |
| Methamphetamine/mAMP (or MET) | 1000 ng/mL | 2-4 Days |
| Morphine/OPI | 300 ng/mL | 2-3 Days |
| Oxycodone/OXY | 100 ng/mL | 1-3 Days |
They routinely get a 99% accuracy rating, making them one of the most accurate testing devices on the market.
As for the drugs that are tested with this urine drug testing device, here are the drugs:
How to use 10 panel drug test?
The 10 panel drug test along with the administered urine needs to be brought to room temperature or 36 to 76 degrees Fahrenheit.
In order to do the test, refrain from opening the packaged test until you are ready to use it and then:
Open: Remove the test from its packaging when ready and use it as soon as possible
Dip: Dip the sample pad area of the dipstick card in the urine specimen, submerging only up to the "MAX" mark of the dipstick strip or the edge of the dipstick card. Wait from 10 to 15 sec until you pull out dip card and go to the next step.
Wait: Place the device on a clean and level surface and wait for 5 minutes
Read: Following the instructions on how to read the test, take a look at the membranes of the strips, keep a close eye on the C and T markings.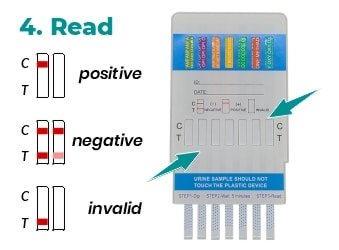 Reading the drug test dip cards
10 panel drug test what is it?
With 10 different sets of drug testing strips the ten panel drug test is a testing device with a wide range and extremely high accuracy.
Each set of testing strips doing its part and finding its respective drug traces.
The 10 dip drug test accuracy rating is routinely 99% which makes it the best option when it comes to bulk drug testing.
Considering all of the unique quirks and advantages of the 10 panel dip drug testing kit it is easy to see why it would be a customer favorite.
This drug screening device, with its reliability, its accuracy, and its rapid testing makes it stand out in the marketplace. Preferred by both medical professionals as well as everyday users.