Ovulation Test
An Ovulation test is designed to figure out when Ovulation is starting. Ovulation is the unique process in which a mature egg is released from its ovary. Once the egg is released in the next 12 to 24 hours it can be fertilized. For those trying to have children, this process is very important, which is when an ovulation test comes into play.
Note that sperm can live in the reproductive tract for almost five days this is why the LH ovulation test is important. It can inform couples of when to try for a child and when to avoid having intercourse if they wish to avoid having children. Chances of getting pregnant are at their highest during this process.
LH Urine Ovulation Test
Urine testing for drugs as well as pregnancy tests and this ovulation test all work with the urine testing method. This is partly due to the fact that urine is able to store both traces of drugs and hormones for extended periods of time. Giving you the chance to find these traces and act on them.
The urine testing method is also cost-effective and doesn't require medical professionals to be undertaken. It also boasts an impressive 99% accuracy rating making it highly precise when it comes to finding what you're looking for. This method is used in testing strips, test cups, and dip cards.
Instructions for Ovulation Test Strips
Bring tests, specimens, buffer and/or controls to room temperature (15-30°C) before use, then just follow few simple steps.
Open: Remove the LH Test Stripe from its sealed pouch, or remove one strip from the canister, and use it as soon as possible. For the best result, the assay should be performed within an hour.
Dip: Hold the strip by the end, where the product name is printed. To avoid contamination, do not touch the strip membrane. Dip the test strip in the urine specimen for at least 10-15 seconds. Do not immerse past the maximum line (MAX) on the test strip.
Wait: After the test has finished running, remove the strip from the specimen and place it on a non-absorbent flat surface.
Read: Start the timer and wait for the colored band(s) to appear. The result should be read at 5 minutes. Do not interpret the result after 10 minutes.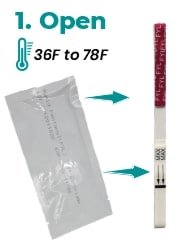 How to read LH test strips
LH Ovulation Test
What is LH? The luteinizing hormone is vital to the ovulation process. LH is a hormone that is produced in your body in most menstrual cycles. However, once the egg starts growing and reaches a certain size the LH hormone is produced increasingly. This is why an ovulation test comes in handy, in order to notice this moment.
LH is highly important because it initializes the ovulation process, releasing the egg and starting your fertile period. So it is vital to watch for this process when planning for children. This fertile period can be noticed by an LH ovulation test and it will last for 24 hours after which it is over.
The Ovulation LH test strip
Test strips are the most commonly used testing material or device currently in use, whether that be for drug testing or for these kinds of tests. Their simple design, ease of usage as well as cost-effectiveness is what give them an edge over other testing tools on the market. Note that they only work as intended if the instructions are followed.
These strips can be built into other testing devices, but above all else, they are a comfortable option when testing for ovulation and using pregnancy tests. They produce results quickly and efficiently. If you are looking for an ovulation test these kinds of tests are what you should be looking for.