BUP drug test – Buprenorphine drug test
Usage of testing strips in drug screenings has become an inseparable occurrence. The simple strips have made drug testing easy and even an enjoyable experience. These testing strips can be seen built into more advanced testing devices such as dip cards and testing cups, making them highly versatile.
Key futures of BUP Test Strips are:
They are low cost
99% accurate
results are shown after 5 min
easy to use
Forensic use only
The Buprenorphine drug test is a test strip used for testing for a specific drug, BUP or buprenorphine. These BUP test urine take advantage of the fact that urine stores drug traces found in your system. Boasting a 99% accuracy rating, the BUP urine drug test is capable of finding any and all traces of BUP in your system.
Buprenorphine urine test
Considering urine's ability to store large amounts of drug traces in your system it is noticeable that this is a good method for testing. The BUP drug test uses this method and it takes reliability seriously. The tests are easy to use as well as rapid, making them the perfect tool for testing for BUP.
For several days urine is capable of storing drug traces after they have been taken. There are however, several factors that influence how long the drugs will stay in your urine and your system. Even though the effects will pass, traces of the drugs will stay as long as you intake the drug or if you take large amounts.
Buprenorphine
For the first time health care professionals have a constructive ally in their fight against opioid addiction. BUP is used to combat addiction and most importantly to ease the withdrawal effects present when the cleaning process starts. This process is hard and long lasting, however there are tools to help out in the fight.
One of these tools are drug tests which keep an eye on your system and the presence of drugs within it. Drug addiction is a dangerous thing to have to fight and we do advise getting help if you can. BUP is also used for treating opioid use disorder which forces people to use hard hitting opioids.
The drug is sold under the trade names Subutex™, Buprenex™, Temgesic™, and Suboxone™, which contain Buprenorphine HCl alone or in combination with Naloxone HCl.
Instructions for Buprenorphine urine drug test
Bring tests, specimens, buffer and/or controls to room temperature (15-30°C) before use, then just follow few simple steps.
Open: Remove the BUP Drug Test Stripe from its sealed pouch, or remove one strip from the canister, and use it as soon as possible. For the best result, the assay should be performed within an hour.
Dip: Hold the strip by the end, where the product name is printed. To avoid contamination, do not touch the strip membrane. Dip the test strip in the urine specimen for at least 10-15 seconds. Do not immerse past the maximum line (MAX) on the test strip.
Wait: After the test has finished running, remove the strip from the specimen and place it on a non-absorbent flat surface.
Read: Start the timer and wait for the colored band(s) to appear. The result should be read at 5 minutes. Do not interpret the result after 10 minutes.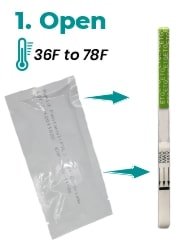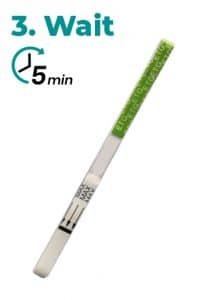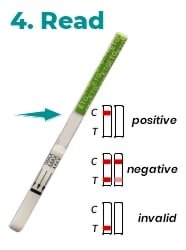 How to read buprenorphine test strips