Amphetamine drug test
Drug testing strips are a rapid testing device designed to be simple and to the point. Although they may not look like much these strips are here to find any and all traces of a specific drug within your system. Their simple design is also uniquely easy to use following a set of four steps.
Key futures of AMP Test Strips are:
They are low cost
99% accurate
results are shown after 5 min
easy to use
Forensic use only
This AMP drug test is known to be highly reliable, boasting an accuracy rating of 99% it is able to locate all traces of Amphetamines in your urine. Testing devices such as this are some of the most commonly used methods, they are used even in bulk testing methods. Being built in to dip cards and testing cups.
What is Amphetamine?
Legally Amphetamines are used for treating severe conditions such as Narcolepsy, ADHD and Parkinson's disease. They are considered a powerful family of drugs and are to be used only under prescription. They can also be used illegally and in this case they have been known to cause problems for users.
Since the drug is powerful it can lead to a development of dependence. If you know someone or you yourself have problems with dependency please contact you health care services as soon as possible. In order to keep addictions in check the Amphetamine drug test is an important ally.
Amphetamine in Urine
A common staple when it comes to drug testing with strips is the fact that urine is quite adept at storing traces of drugs within it. This in turn provides amphetamine drug tests in urine a way to uncover traces of the powerful drug. The AMP drug test is highly adept at finding most traces of amphetamines.
These drug testing strips are so precise and powerful that they are know to score a 99% accuracy rating. This coupled with its friendly user interface and the fact that urine stores drug traces makes this a cheap and rapid testing tool. One that, anyone who believes they suffer from addiction, should use to regulate their intake.
Instructions for Amphetamine urine drug test
Bring tests, specimens, buffer and/or controls to room temperature (15-30°C) before use, then just follow few simple steps.
Open: Remove the AMP Drug Test Stripe from its sealed pouch, or remove one strip from the canister, and use it as soon as possible. For the best result, the assay should be performed within an hour.
Dip: Hold the strip by the end, where the product name is printed. To avoid contamination, do not touch the strip membrane. Dip the test strip in the urine specimen for at least 10-15 seconds. Do not immerse past the maximum line (MAX) on the test strip.
Wait: After the test has finished running, remove the strip from the specimen and place it on a non-absorbent flat surface.
Read: Start the timer and wait for the colored band(s) to appear. The result should be read at 5 minutes. Do not interpret the result after 10 minutes.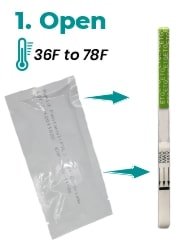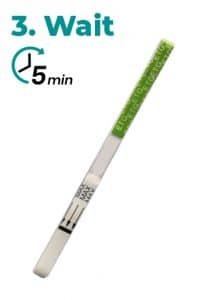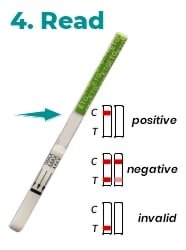 How to read amp drug test