Tramadol test strips
Modern day drug testing is centered around the urine drug testing method, it is no different with the highly sensitive tml drug test. These tramadol test strips are like all testing strips easy to use and quite adept at finding any and all traces of drugs in your urine. Making them a reliable tool for drug screenings..
Some of the key benefits for our device are:
99.9% accurate
Low price
Bulk price available
Easy to use
Results in 5 minutes
Same day FREE shipping
SAMHSA cut-off levels
For home and professional use
Forensic use only
Boasting a 99% accuracy rating this testing method is simple to use, perfect for personal use or in workplace testing environments. Drug testing strips are also used in the build of several other drug testing devices such as dip cards and drug test cups. Which speaks to their reliability and variety of functions.
Tramadol urine test
Using urine for drug testing has become a staple of the drug testing experience, this is because urine is quite good at storing traces of drugs even days after the effects of the drug have worn off. This will however depend on several factors however, the most important being drug intake.
In a nutshell, the more drugs you intake the longer the drug will stay in your system even if you stop using them. So if you have had an addiction to a certain drug it will stay for some time until it is metabolized. This has made urine the prime testing method in most drug testing events.
The tramadol test strips are specifically designed to find traces of TML or tramadol in your system. This makes the relationship between drug testing and tramadol like any other drug testing situation. The strips are sensitive and will give you or your doctors any information vital to checking your system.
The tramadol drug test
Tramadol is considered a hard drug as it is a synthetic built opioid it acts as a pain relief drug working with the central nervous system. Not that it is used to treat severe pain and it is not to be used under other circumstances. It is used as round the clock pain relief in the case of surgery and severe accidents.
In order to check your tramadol intake use these tramadol test strips and contact your doctor on what levels are acceptable for your health. Remember that many pain relieving drugs can be abused and can cause addiction. Please be careful when using such drugs on a daily basis, they can be quite dangerous.
Instructions for Tramadol urine drug test
Bring tests, specimens, buffer and/or controls to room temperature (15-30°C) before use, then just follow few simple steps.
Open: Remove the TML Drug Test Stripe from its sealed pouch, or remove one strip from the canister, and use it as soon as possible. For the best result, the assay should be performed within an hour.
Dip: Hold the strip by the end, where the product name is printed. To avoid contamination, do not touch the strip membrane. Dip the test strip in the urine specimen for at least 10-15 seconds. Do not immerse past the maximum line (MAX) on the test strip.
Wait: After the test has finished running, remove the strip from the specimen and place it on a non-absorbent flat surface.
Read: Start the timer and wait for the colored band(s) to appear. The result should be read at 5 minutes. Do not interpret the result after 10 minutes.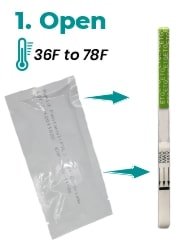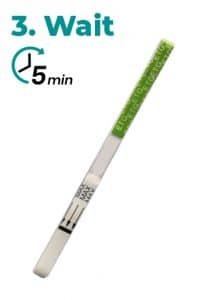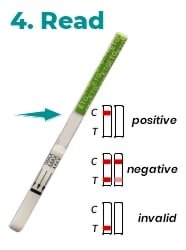 How to read testing strip results