16 panel drug test cup information
16 Panel drug test cup with KRA strip – the most reliable Kratom test you can find
It's simple to use and fast in delivering results
We have the best price on the market that is even better on your bulk orders
Indicates presence of 16 drugs, including Fentanyl test, Kratom test, and Alcohol Etg Test
The 16 panel drug test cup with EtG, KRA, and FYL test is a drug and alcohol test that is simple to read, and it's a smart solution for home and at-work testing.
Thanks to its built-in temperature strip, which indicates the temperature of the urine sample collected, which means we prevent any kinds of substitution, adulteration, or dilution.
It is also extremely sensitive and confirmed by SAMHSA cut-off levels.
Each test cup has a leak-proof screw-top to prevent any spillage, so the procedure is completed in a completely sanitary and hygienically sound environment.
And it's all you need to complete the testing, no need for additional equipment.
16 Panel Cup: drug test list:
| | | |
| --- | --- | --- |
| Drug Name | Cut-Off Level | Detection time Urine |
| Amphetamines/AMP | 1000 ng/mL | 1-2 Days |
| Barbiturates/BAR | 300 ng/mL | 1-4 Days |
| Benzodiazepines/BZO | 300 ng/mL | 1-2 Days |
| Buprenorphine/BUP | 10 ng/mL | 2-6 Days |
| Cocaine/COC | 300 ng/mL | 2-4 Days |
| Ecstasy/MDMA | 500 ng/mL | 2-4 Days |
| Fentanyl/FYL | 20 ng/mL | 2-3 Days |
| Marijuana/THC | 50 ng/mL | 5+ Days |
| Methadone/MTD | 300 ng/mL | 1-3 Days |
| Methamphetamine/mAMP (or MET) | 1000 ng/mL | 2-4 Days |
| Morphine/OPI | 300 ng/mL | 2-3 Days |
| Oxycodone/OXY | 100 ng/mL | 1-3 Days |
| Phencyclidine/PCP | 25 ng/mL | 7-14 Days |
| Nortriptyline/TCA | 1000 ng/mL | 2-7 Days |
| Ethyl -glucuronide/EtG | 500 ng/mL | 1-3 Days |
| Kratom/KRA | 500 ng/mL | 1-9 Days |
16 Panel Drug Test instruction
Be sure to follow the instructions when using the 12 panel drug testing cups.
Open: The drug testing device should be held at temperatures between 36 and 78 degrees Fahrenheit. If this is followed the cup can be removed from the packaging slowly.
Collect: Urine should be administered into the open cup only once you are ready to use the device, otherwise, it should remain closed.
Check: Once the urine is in, the temperature strips on the cup should show a temperature of between 90 and 100 degrees Fahrenheit.
Wait: Once the urine has been administered and the cup closed, wait for 5 minutes at least, if you check the test sooner than that the results will be inconclusive.
Peal: Once the 5 minutes have passed you can read the results of the test by looking at the test strips membrane which is printed out on the cup itself.
Read: Following the instructions on how to read the test, take a look at the membranes of the strips, keep a close eye on the C and T markings.
How to use 16 panel drug test cup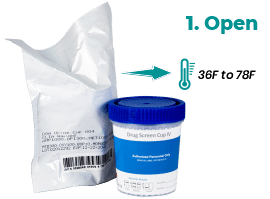 How to read a 16 panel drug test screening cup
To read 16 panel drug test cups just follow the instruction on the page or on your cup, all the test strips in the cup can be read by looking at the red lines they show.
16 panel drug test cup is a quite sensitive drug screen that adheres to SAMHSA cutoff levels.
It is recommended that you wait for at least 5 minutes after the test has been administered in order for the cups to provide a clear and readable result.
Specific drugs that 16 panel test cup is testing
Kratom test
According to National Institute on Drug Abuse, Kratom is a tree native to Southeast Asia with leaves that have mind-altering effects. It is not illegal at the moment, which means it's easy to order online. The best part of our test cup with KRA strip is that it certainly detects Kratom's presence in urine even after a week of its use.
Fentanyl test
According to the same source, Fentanyl is a synthetic opioid 100 times more potent than morphine. It has a rapid onset and its effects don't last long – two hours top. But it will show up in urine after 24 to 72 hours.