Ecstasy Drug Test
Ecstasy drug test is an easy way to detect the presence of 3,4-Methylenedioxymethamphetamine HCl  in human urine.
Key futures of MDMA test are:
They are low cost
99% accurate
results are shown after 5 min
SAMHSA cutoff levels, making them the perfect tool in drug testing
Same day shipping
Forensic use only
Ecstasy or Molly or MDMA is a severe psychedelic drug that alters your perception of reality for a limited time.
Ecstasy drug test
Over the course of the last two decades, drug testing has been conducted through simple and cost-effective means. Drug testing strips like the Ecstasy drug test have become an integral part of most drug screening experiences. Mostly due to the fact that they are quite adaptable and are able to be built into other devices such as dip cards and cups.
Even though drug testing strips can be considered a bit too simple, these testing tools are quite reliable. Boasting a 99% accuracy rating they can find the drug they are looking for easily. Because of this, tests like the Ecstasy drug test are used in almost every testing experience across the US.
Aside from their reliability, precision, and cost-effectiveness they are also used in other devices. Built into cartridges and other testing devices strips like the Ecstasy drug test can be useful in a variety of situations.
They have become a favorite drug testing tool for both doctors and patients alike.
Instructions for ecstasy urine drug test
Bring tests, specimens, buffer and/or controls to room temperature (15-30°C) before use, then just follow few simple steps.
Open: Remove the MDMA Drug Test Stripe from its sealed pouch, or remove one strip from the canister, and use it as soon as possible. For the best result, the assay should be performed within an hour.
Dip: Hold the strip by the end, where the product name is printed. To avoid contamination, do not touch the strip membrane. Dip the test strip in the urine specimen for at least 10-15 seconds. Do not immerse past the maximum line (MAX) on the test strip.
Wait: After the test has finished running, remove the strip from the specimen and place it on a non-absorbent flat surface.
Read: Start the timer and wait for the colored band(s) to appear. The result should be read at 5 minutes. Do not interpret the result after 10 minutes.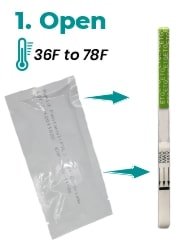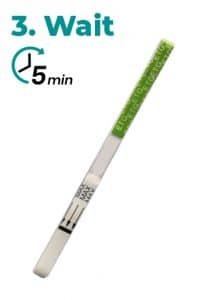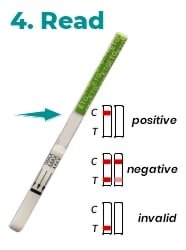 How to read testing strip results
Ecstasy urine drug test
A key component of themolly drug test strips being so widely used today in our country is the nature of urine. Drug test strips like the mdma test kit are able to find traces of the drug they are looking for even days after the effects of the drug have worn off. This is due to the fact that Urine is capable of storing these traces and keeping them alive.
Using test strips like the Molly test strips is made available to everyone in the use, whether they be doctors or patients. Mostly due to the fact that urine based drug tests are quite cost effective as well as reliable. A whole slew of screening technology has been developed around this simple testing method.
Another key feature of this method is the fact that doctors aren't necessarily needed. We do advise at the very least consulting with your doctors when taking these tests. However, tests like the Ecstasy drug test do not require professional help. All that is required is following the instructions provided with the product.
MDMA drug test
Ecstasy, or Molly or MDMA is a severe psychedelic drug which alters your perception of reality for a limited time. It produces feelings of excitement, increased energy, pleasure and emotional warmth. The drug usually lasts for about 3-6 hours after which the low turn begins. In order to help regulate the intake of this drug we recommend using the Ecstasy drug test.
It is important to note that Ecstasy can be quite dangerous, as with increased amounts of drug intake your body temperature can suddenly rise. An extensive increase in your temperature can lead to kidney failure and several other complications ending in death. The best way to combat this is to regulate your intake through a Mdma drug test.
If you feel you have been taking too much Ecstasy please consider calling your doctor for advice on how to prevent a lethal outcome.