Barbiturate drug screen
Barbiturates are a group of sedative and hypnotic drugs. Their primary use is calming people, meaning that they fight against anxiety. Their sleep-inducing nature is also used for people with mild insomnia. These drugs can be quite dangerous which is why a BAR drug test comes in handy.
A barbiturate drug test can detect traces of drugs in your system and with the help of your doctor you can determine if the amount is too high. Barbiturates are dangerous because it is hard to determine the right dosage for individual people. A BAR drug test has the ability of determining if the dose you are taking is too much.
What are Barbiturate test strips?
One-step rapid Barbiturate test strips detect the presence of barbiturates in human urine. They're 99% accurate, safe, and easy to use.
What are barbiturates?
Barbiturates belong to a class of drugs known as Central Nervous System Depressants. Doctors prescribe them for people suffering from insomnia, anxiety, and seizures.
These drugs come in several forms and have different detection times.
Long-acting: up to 15 days

Intermediate-acting: 7 days

Short-acting: 3 days
What is BAR on a drug test?
Drug testing today is mostly conducted through the urine screening method. Meaning you administer urine to the test. The BAR drug test works on the same principle, mostly due to the tests adaptability and cost efficiency. You will find testing strips such as these in other devices such as dip cards and test cups.
Urine is capable of storing traces of drugs for several days after the effects have worn off. There are some factors that can influence this, but the most important one is the amount of drugs you take. The more you take, the longer it will stay in your system. because of this the highly sensitive test strips are going to find the traces. Boasting a 99% accuracy rating you can be sure that these strips will find what they're looking for.
Why test for barbiturates?
The Drug Enforcement Administration (DEA) classifies barbiturates as Schedule III Drugs. They are less addictive than drugs under Schedules I and II. However, they have current medical uses in the US.
Why do some people abuse barbiturates?
Barbiturates help people sleep and relax. As such, doctors prescribe them to people who need more sleep and relaxation.
Additionally, people who are using stimulant drugs like amphetamine need them to relax or sleep.
The problem is, some people become so dependent on barbiturates. As a consequence, they get hooked, and later on, develop resistance to the drug. When this happens, they need to take more drugs. This is when overdose most likely occurs.
Instructions for Barbiturate drug test
Bring tests, specimens, buffer and/or controls to room temperature (15-30°C) before use, then just follow few simple steps.
Open: Remove the BAR Drug Test Stripe from its sealed pouch, or remove one strip from the canister, and use it as soon as possible. For the best result, the assay should be performed within an hour.
Dip: Hold the strip by the end, where the product name is printed. To avoid contamination, do not touch the strip membrane. Dip the test strip in the urine specimen for at least 10-15 seconds. Do not immerse past the maximum line (MAX) on the test strip.
Wait: After the test has finished running, remove the strip from the specimen and place it on a non-absorbent flat surface.
Read: Start the timer and wait for the colored band(s) to appear. The result should be read at 5 minutes. Do not interpret the result after 10 minutes.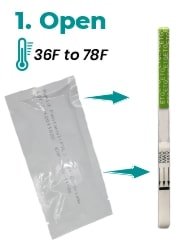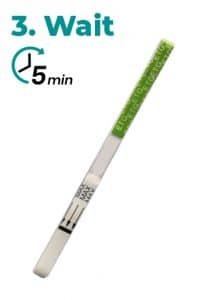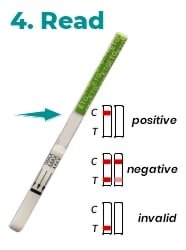 How to read bar drug test result