Clonazepam Drug Test
Clonazepam Drug Test is an easy way to detect the presence of Clonazepam drug in human urine.
Key futures of CLON test are:
They are low cost
99% accurate
results are shown after 5 min
cutoff level 150 ng/ml
Forensic use only
Testing strips today are utilized in almost every drug screening environment ranging from at home testing to medical environments. They are usually used in the designs of other testing devices such as dip cards and test cups. Because of their simple design they can be used in multiple combinations.
Aside from these perks this testing tool, such as this urine test for clonazepam is highly reliable and easy to operate. The four step instructions are easy to digest, giving you every information you will need to administer the test. Drug testing strips are also a rapid testing system, due to their simple design.
What is Clonazepam?
Clonazepam is considered a part of the Benzodiazepine family of drugs. It is used primarily for treating seizure disorders but can also be used as a treatment for panic disorder and agoraphobia. Basically, Clonazepam is a drug that is here to help relax severe stress to the body and mind.
Just like the rest of its family, Clonazepam is sometimes tied to developing addiction and dependency. As it is a powerful drug this can be a dangerous thing and lead to health complications or even overdose.
If you know someone or you yourself have developed an addiction we advise that you contact the local health care services.
Clonazepam in a urine drug test
Most in use drug tests today use urine to conduct their drug tests. This is because urine is capable of storing traces of drugs within it and keeping them stored for days. The amount of time it will keep these drug traces stored depends on several factors. But the main point is that the more you take the longer it will last.
Instructions for Clonazepam Test Strips
Bring tests, specimens, buffer and/or controls to room temperature (15-30°C) before use, then just follow few simple steps.
Open: Remove the CLON Drug Test Stripe from its sealed pouch, or remove one strip from the canister, and use it as soon as possible. For the best result, the assay should be performed within an hour.
Dip: Hold the strip by the end, where the product name is printed. To avoid contamination, do not touch the strip membrane. Dip the test strip in the urine specimen for at least 10-15 seconds. Do not immerse past the maximum line (MAX) on the test strip.
Wait: After the test has finished running, remove the strip from the specimen and place it on a non-absorbent flat surface.
Read: Start the timer and wait for the colored band(s) to appear. The result should be read at 5 minutes. Do not interpret the result after 10 minutes.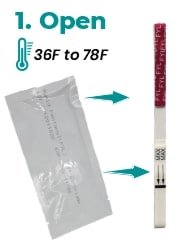 How to read testing strip results