Ecstasy Drug Test
A heroin 6-MAM drug test is an easy way to detect the presence of 6-acetylmorphine, which is one of three metabolites of heroin in human urine.
Key futures of 6-MAM test are:
They are low cost
99% accurate
results are shown after 5 min
SAMHSA cutoff levels, making them the perfect tool in drug testing
Same day shipping
Forensic use only
Heroin Drug Test
A drug testing staple in recent years has been the test strips testing tool. Like other screening strips the Heroin drug test is a simple and effective way to find traces of a particular drug. As well as being a cost effective option on the market, mostly due to the fact it uses the urine testing method.
Test strips are also quite adaptable and they are used in most other urine based testing devices such as dip cards and test cups. Their adaptability is only one part of the picture, as testing strips like the Heroin drug test are also very precise. Boasting an impressive 99% accuracy rating.
Cost effectiveness is a key feature purely because for the first time a wider audience has access to these tests. Even though there is a need for consultations with doctors, test strips such as the Heroin drug test offer patients a tool to do it by themselves. In turn making the drug testing strips a favourite across the country.
Instructions for heroin urine test
Bring tests, specimens, buffer and/or controls to room temperature (15-30°C) before use, then just follow few simple steps.
Open: Remove the MAM Drug Test Stripe from its sealed pouch, or remove one strip from the canister, and use it as soon as possible. For the best result, the assay should be performed within an hour.
Dip: Hold the strip by the end, where the product name is printed. To avoid contamination, do not touch the strip membrane. Dip the test strip in the urine specimen for at least 10-15 seconds. Do not immerse past the maximum line (MAX) on the test strip.
Wait: After the test has finished running, remove the strip from the specimen and place it on a non-absorbent flat surface.
Read: Start the timer and wait for the colored band(s) to appear. The result should be read at 5 minutes. Do not interpret the result after 10 minutes.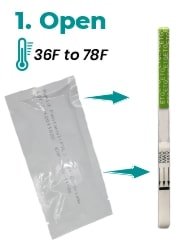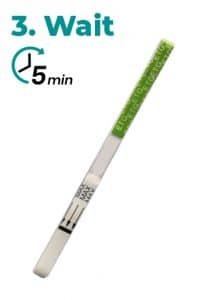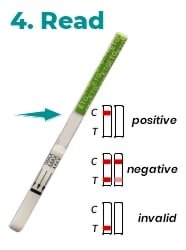 How to read testing strip results
6 mam drug test
6-Monoacetylmorphine is one of the several metabolites of Heroin, it is the part of the drug that gets picked up by urine based drug tests. Now, Heroin is a notorious drug which is responsible for thousands of overdose cases each year in the US alone. Using a Heroine drug test can help battle the overdose pandemic.
However we recommend constant consultations with your doctors if you have found yourself taking Heroin. If you know someone who has become addicted to this dangerous drug we advise that he seek professional help through rehab centres. In case you have come across someone who has been selling this illegal drug please call 911.
Heroin is known to be used in combinations with other drugs, such as fentanyl and it can be highly lethal. Taking a Heroin drug test could help you keep your drug levels in check, we do however advise not using this drug. The negatives and the risks associated with the drug far outweigh any temporary "high".
6 mam urine test
Urine based drug testing tools have for years now been the primary testing tools in use across the globe. Mostly due to the fact that urine based tests like the Heroin drug test are a cost effective way of screening your system. They also require very little professional help to conduct and operate efficiently.
Aside from being a cost-effective alternative to other drug testing methods urine is also quite capable of storing traces of drugs for days. So much so that it will store traces for several days after the effects of the drug have worn off. The dangers of Heroin addiction or really any kind of addiction call for quality testing tools like the Heroine drug test.
In case you have gotten into a situation where you can no longer stop taking the drug, meaning you have developed a dependency we advise going to a rehab center and consulting your physician.