18 panel drug screen
The 18 panel drug screen is designed to be cost-efficient,  easy to use, drip-free, and a 99.9% accurate drug test device. 
This drug testing device is perfect for workplace testing as well as any other drug screening needs. It also contains an additional ADLTX strip that can check if the urine sample is legit.
If the instructions provided with the product are followed you can be sure that the test will do its job perfectly the first time, any time.
Built into this bulk testing device are 18 test strips, each is designed to find traces of a specific drug in your urine by following specific SAMHSA cutoff levels.
What does a 18 panel test for?
A complete list of all drugs being tested is provided on this page, giving you a quality look at the full range the 18 panel drug test can test for.
A few unique drugs for this cup are:
KET Test (hydrocodone test)

KRA Test (Kratom Test)

FEN Test (Methaqualone drug test)

ETG Test

3 ADLTX (Specific Gravity, pH, and Creatinine)
18 Panel Cup drug test list
| | | |
| --- | --- | --- |
| Drug Name/Abbreviation | Cut-Off Level | Detection time |
| Amphetamines/AMP | 1000 ng/mL | 1-2 Days |
| Barbiturates/BAR | 300 ng/mL | 1-4 Days |
| Benzodiazepines/BZO | 300 ng/mL | 1-2 Days |
| Buprenorphine/BUP | 10 ng/mL | 2-6 Days |
| Cocaine/COC | 300 ng/mL | 2-4 Days |
| Ecstasy/MDMA | 500 ng/mL | 2-4 Days |
| Fentanyl/FYL | 20 ng/mL | 2-3 Days |
| Marijuana/THC | 50 ng/mL | 5+ Days |
| Methadone/MTD | 300 ng/mL | 1-3 Days |
| Methamphetamine/mAMP (or MET) | 1000 ng/mL | 2-4 Days |
| Morphine/OPI | 300 ng/mL | 2-3 Days |
| Oxycodone/OXY | 100 ng/mL | 1-3 Days |
| Phencyclidine/PCP | 25 ng/mL | 7-14 Days |
| Tramadol/TRA | 100 ng/mL | 1-4 Days |
| Ethyl -glucuronide/EtG | 500 ng/mL | 1-3 Days |
| Kratom/KRA | 500 ng/mL | 1-9 Days |
| Ketamin/KET | 1000 ng/mL | 1-3 Days |
| 3 Adultarents | Specific Gravity, pH, and Creatinine | |
18 Panel Test Cup Instruction
Be sure to follow the instructions when using the 18 panel drug testing cups.
Open: The drug testing device should be held at temperatures between 36 and 78 degrees Fahrenheit. If this is followed the cup can be removed from the packaging slowly.
Collect: Urine should be administered into the open cup only once you are ready to use the device, otherwise, it should remain closed.
Check: Once the urine is in, the temperature strips on the cup should show a temperature of between 90 and 100 degrees Fahrenheit.
Wait: Once the urine has been administered and the cup closed, wait for 5 minutes at least, if you check the test sooner than that the results will be inconclusive.
Peal: Once the 5 minutes have passed you can read the results of the test by looking at the test strips membrane which is printed out on the cup itself.
Read: Following the instructions on how to read the test, take a look at the membranes of the strips, keep a close eye on the C and T markings.
How to use 18 panel urine drug test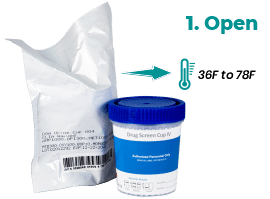 The 18 panel urine drug test
Like with most testing devices currently in use around the US the 18 panel drug test uses the urine testing method.
This method is so commonly used mostly due to the fact that urine is adept at storing traces of drugs for several days.
It is also noteworthy that this testing method is quite affordable, unlike other testing methods.
Depending on several factors, consumed drugs will stay for several days in your urine.
Meaning they will persist in your system long after the effects of the taken drugs have passed.
This is the main reason the 18 panel drug test can do its job so well and provide concise answers.
Do note that this method is prone to providing false positive results, however, if the instructions provided with the product are followed fully the chances of this happening are slim.
A false positive test can cause complications so it is advised that tests be retaken and double checked when they can.
Reading the 18 panel drug test cup
Adulterants test
Adulterants testing with these strips is a process that searches for any kind of tampering with a urine sample from the donor.
Those additional ADLTX strips will further increase the minimum chance that the sample can be changed or anyhow tempered with before testing.
Some of the commonly used adulterants in urine drug testing are:
Table salt
Household vinegar
Liquid laundry bleach
Lemon juice.
Diluted urine (creatinine below 15 mg/mL).
Visine eye drops
The urine drug testing cups with adulteration drug test are designed to be user-friendly and reliable.
Reading Adulterants test