Opiate drug test
Drug testing strips like the Opiate drug test have become the norm in most drug screening experiences in the US. Partly due to several factors that influence their accessibility and reliability. One of the more important factors is ease of use, drug test strips are one of the first drug screening tools that you can use without the help of a doctor.
Key futures of OPI/MOP Test Strips are:
They are low cost
99% accurate
results are shown after 5 min
easy to use
Forensic use only
Another key feature is the fluid design that allows the strips such as the Opiate drug test to find traces of drugs. Their simple design makes them a rapid fire testing device which can produce results after only five minutes. In turn this makes drug testing strips some of the more sought after testing tools on the US market.
Finally drug testing strips are incredibly precise in their mission, finding traces of drugs even a few days after the drugs effects have worn off. Boasting an astounding 99% accuracy rating they are some of the best testing tools you can find. If you're looking for a sleek and easy to use, but accurate drug testing tool this is what you are looking for.
What does Morphine show up as on a drug test ?
Morphine drug tests do not exist in that name, they are mostly called the Opiate drug test-s since opioids have a similar structure and they can be tracked by the same drug testing tools. Before going into what Opioids are you should know that they are tested by many of the same testing devices.
Opiate drug testing facts
Opioids or Opiates are a set of powerful painkillers which are used in cases of severe pain. Mostly after surgeries or if a person has experienced a car accident or has gotten severe injuries. Morphine is used in war to help mend severe pain suffered by soldiers. These drugs can cause dependence and they can grow to addictive levels.
Taking an Opiate drug test once in a while can help regulate your drug intake levels and reduce the chances of potential health hazards. If you are taking Opioids as a therapy please be sure to constantly be in contact with your doctor and follow your prescription to the letter.
Morphine urine test
For the past decade or more the urine testing method has become more and more popular and sought after. This is mostly due to several key factors which have influenced people both professional and laymen to use this method. Opening up the drug testing experience to a wider audience of patients and buyers.
One key factor in why the urine testing method has become as popular as it has is the fact that it is far more cost effective then the other alternatives.
Aside from this the second key factor we will mention is a more scientific one. Urine is quite capable of storing traces of drugs for several days. Opiate drug test are able to find these traces and notify the person conducting the tests. This factor is perhaps the most important one since it makes the tests quite reliable.
Instructions for Morphine drug test
Bring tests, specimens, buffer and/or controls to room temperature (15-30°C) before use, then just follow few simple steps.
Open: Remove the OPI/MOP Drug Test Stripe from its sealed pouch, or remove one strip from the canister, and use it as soon as possible. For the best result, the assay should be performed within an hour.
Dip: Hold the strip by the end, where the product name is printed. To avoid contamination, do not touch the strip membrane. Dip the test strip in the urine specimen for at least 10-15 seconds. Do not immerse past the maximum line (MAX) on the test strip.
Wait: After the test has finished running, remove the strip from the specimen and place it on a non-absorbent flat surface.
Read: Start the timer and wait for the colored band(s) to appear. The result should be read at 5 minutes. Do not interpret the result after 10 minutes.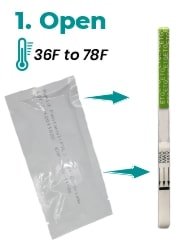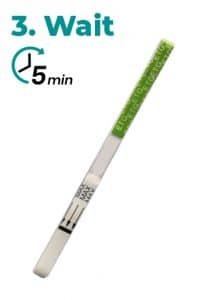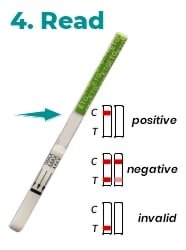 How to read opi test results