THC Multi Level test
This Marijuana (THC) Multi Level test is a cost effective solution to THC drug testing needs. It is a uniquely designed drug screening device that boasts high accuracy and distinct ease of use.
Key futures of Marijuana (THC) Multi Level test are:
They are low cost
99% accurate
results are shown after 5 min
Testing for thc 15 ng test, thc 50 ng test, thc 100 ng test, thc 200 ng test
Forensic use only
The THC drug test kit is used to test specific compounds in the donor's urine for traces of THC. This method is a surefire way of determining if the urine donor has used marijuana before the test or not.
The marijuana drug test kit is exceptionally fast at providing results as well as highly accurate and easy to read.
What does a Marijuana drug test test for?
THC urine dip drug tests are top-of-the-line drug testing devices available in very cost-effective packages.
These marijuana drug test kits are quite adept at finding any and all traces of THC in the donor's urine.
Given their speed in providing results they are the perfect drug screening tool for both medical environments as well as for personal use.
The Marijuana drug test kit is built from a container that holds several marijuana drug testing strips. These strips are almost always used for personal THC drug testing.
thc 15 ng test,

thc 50 ng test,

thc 100 ng test,

thc 200 ng test
The advantage of having them clumped up in a container is that they provide faster and highly accurate results. If you need a THC drug test kit, this is the perfect one to use.
How to use marijuana test strips?
The marijuana test strips along with the administered urine need to be brought to room temperature or 36 to 76 degrees Fahrenheit.
In order to do the test, refrain from opening the packaged test until you are ready to use it and then:
Open: Remove the test from its packaging when ready and use it as soon as possible
Dip: Dip the sample pad area of the dipstick card in the urine specimen, submerging only up to the "MAX" mark of the dipstick strip or the edge of the dipstick card. Wait from 10 to 15 sec until you pull out dip card and go to the next step.
Wait: Place the device on a clean and level surface and wait for 5 minutes
Read: Following the instructions on how to read the test, take a look at the membranes of the strips, keep a close eye on the C and T markings.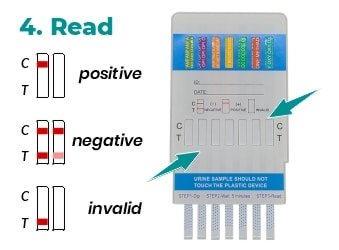 What is a Marijuana drug test kit?
Used for testing for traces of THC in urine the Marijuana drug test kit is an exceptional drug screening tool. The thc dip drug test accuracy is top notch, boasting an 99% accuracy rating.
Making it the best drug screening tool for any kind of testing. Whether that be forensic testing, personal use or workplace testing.
This drug testing device is a SAMHSA approved product, it is primarily used in forensic testing however it is quite useful for all medical environments.
With its rapid testing feature, the Marijuana drug test kit offers up test results in just over 5 minutes.
However, in order for the tests to be as accurate and fast as possible, the user needs to follow the set rules on how to use the product.
This Marijuana drug testing kit is designed with rehabilitation or detox from Marijuana in mind.
Its standout features mentioned before all lend a satisfying array of weapons for you to use in your battle with addiction and through your detox period.
Drug testing is always an important ally in this fight and this kit is no different.
The THC multi level test is designed primarily to test your THC levels, or rather the amount of Marijuana you have in your system.
A Marijuana drug test such as this is quite sensitive and is able to detect all levels of THC in your urine. Making it a great option when considering THC levels control in your body.
A Marijuana drug testing kit is built with Marijuana testing strips engraved into the device, making the device as a whole highly accurate.
And in turn making this THC multi level test quite efficient. This is a powerful tool for all your testing needs.
Especially if you are looking for a way to track the levels of THC in your system while going through rehab or detox.
Do note, in court the use of these Marijuana drug tests is used as proof when someone is getting clean from the drug.
They are recognized as a vital tool in court procedures and are quite important for helping people who are struggling with addiction. This further sets the device apart from other testing tools on the market.