What is a 5 panel drug test
A 5 panel urine drug test is a reliable and cost effective drug testing device perfect for everyday use as well as bulk testing. Our 5 panel drug test cost is one of the lowest on the market with even better pricing for bulk orders.
Some of the key benefits for our device are:
Easy to use
Results in 5 minutes
Low price
Bulk price available
Same day FREE shipping
SAMHSA cut-off levels
For home and professional use
This uniquely designed test is capable of finding traces of five different drugs. With built in strips these tests are highly accurate and cast a wide net when it comes to testing.
The 5 panel drug test is a competently designed and easy to use dip card drug testing device which can be used in any situation.
These types of testing devices are quite intuitive and on top of all this they boast an impressive 99% accuracy rating.
This means that they will always find traces of drugs in urine if there is anything to find.
What does a 5 panel drug test test for
| | | |
| --- | --- | --- |
| Drug Name | Abbreviation | Cut-Off Level |
| Amphetamines | AMP | 1000 ng/mL |
| Benzodiazepines | BZO | 300 ng/mL |
| Cocaine | COC | 300 ng/mL |
| Marijuana | THC | 50 ng/mL |
| Morphine | OPI | 300 ng/mL |
Each of the strips is highly adept at finding traces of the drug they are designed to test for. And with their high accuracy rating you can be sure the five panel drug test will find any and all traces there are to be found.
The strips that are located in the 5 panel drug test are as follows:
Amphetamine drug test – which tests for traces of amphetamines in your urine.
Benzodiazepines drug test – which finds traces of benzodiazepines in your urine.
Cocaine drug test – tests for traces of cocaine that can be found in your urine.
Marijuana test strips – Are highly adept at finding traces of THC in your urine.
Morphine drug test – Finds any and all traces of morphine in your urine.
How to use 5 panel drug test?
The 5 panel drug test along with the administered urine needs to be brought to room temperature or 36 to 76 degrees Fahrenheit.
In order to do the test, refrain from opening the packaged test until you are ready to use it and then:
Open: Remove the test from its packaging when ready and use it as soon as possible
Dip: Dip the sample pad area of the dipstick card in the urine specimen, submerging only up to the "MAX" mark of the dipstick strip or the edge of the dipstick card. Wait from 10 to 15 sec until you pull out dip card and go to the next step.
Wait: Place the device on a clean and level surface and wait for 5 minutes
Read: Following the instructions on how to read the test, take a look at the membranes of the strips, keep a close eye on the C and T markings.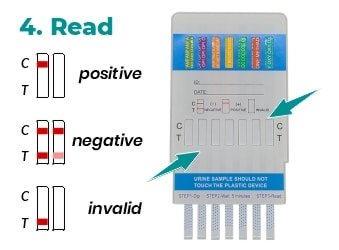 Reading the 5 panel drug screen
What is a 5 Panel Urine Drug Test?
5 panel urine drug tests are fully realized and compact drug testing dip cards.
They are fully realized and highly accurate, with the added bonus of being overtly user friendly.
This drug test is also very cost efficient making it available to anyone and everyone. Another feature of these tests is their extremely long shelf life.
In only a few simple steps the 5 panel drug test can be administered and the results can be found.
Since there isn't any complicated system at play here the 5 panel drug tests are easy to use.
Really the only thing you need to do is provide a urine sample, wait five minutes and the results will be there on the user interface.
If you're looking for a simple, cost effective and accurate testing device you really can't go wrong with getting one of these tests.
They are the perfect drug testing tool for both personal use, medical environments and workplace testing. No matter the situation they will deliver a complete drug testing experience.