What is a 6 Panel Urine Drug Test?
The 6 panel urine drug test cups are an FDA approved and CLIA waived drug testing products. These cups are built to detect 6 different drug traces located in your urine.
Their unique design is leak resistant and is quite easy to use. Above all else, these drug test cups are a very cost-efficient drug testing device.
These unique drug testing tools boast an impressive 99.99% accuracy rating. They have built in temperature strips, so they will prevent any tampering with the urine sample.
As urine normally comes in a certain temperature, any difference in temperature can indicate tampering with the sample.
Aside from unique design and cost efficiency, the 6 panel urine drug tests are also made with the goal of providing a precise and validated drug testing experience.
What does a 6 panel drug test test for?
| | | |
| --- | --- | --- |
| Drug Name | Cut-Off Level | Detection time |
| Amphetamines/AMP | 1000 ng/mL | 1-2 Days |
| Oxycodone/OXY | 100 ng/mL | 1-3 Days |
| Ecstasy/MDMA | 500 ng/mL | 2-4 Days |
| Cocaine/COC | 300 ng/mL | 2-4 Days |
| Morphine/OPI | 300 ng/mL | 2-3 Days |
| Marijuana/THC | 50 ng/mL | 5+ Days |
These particular 6 panel drug test cups test for a wide range of drugs. In this range, THC or Marijuana is included.
The design of the cups is such that 6 different sets of drug testing strips are built into the walls of the cups and when the urine is administered the testing strips do their job flawlessly.
6 Panel Drug test instruction
Few simple steps for using 6 panel drug testing cup are listed below.
Open: The drug testing device should be held at temperatures between 36 and 78 degrees Fahrenheit. If this is followed the cup can be removed from the packaging slowly.
Collect: Urine should be administered into the open cup only once you are ready to use the device, otherwise, it should remain closed.
Check: Once the urine is in, the temperature strips on the cup should show a temperature of between 90 and 100 degrees Fahrenheit.
Wait: Once the urine has been administered and the cup closed, wait for 5 minutes at least, if you check the test sooner than that the results will be inconclusive.
Peal: Once the 5 minutes have passed you can read the results of the test by looking at the test strips membrane which is printed out on the cup itself.
Read: Following the instructions on how to read the test, take a look at the membranes of the strips, keep a close eye on the C and T markings.
How to use 6 panel drug test cup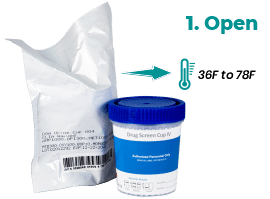 Home drug test: 6 Panel Urine Drug Test
It cannot be overstated how these tests are important for a quality drug testing experience. Their design and function offer the user an easy-to-use home drug test.
These urine drug testing cups are perfect for personal use when you want to check for any drug traces. Here is the list of drugs that can be tested with the 6 panel drug tests: