Ritalin Drug Test
What does Ritalin look like? Ritalin has a smooth round pill with an etch in the middle provided in order to take a half dose easier. Ritalin is a very strong drug that works in the central nervous system, it's primary job being the treatment of ADD and ADHD. Because of this people have been known to develop dependency on Ritalin.
Ritalin is a legal treatment drug that should always be taken according to your prescription and never more than that. If someone you know has been taking more ritalin than advised please advise them to contact the necessary healthcare professionals. If this is not done chances are that a dependency will develop.
Ritalin in urine drug tests
Urine drug tests are the most commonly used testing method today, this is because of several factors. Urine is for one highly adept at storing traces of drugs for several days. This is also compounded by the fact that the more drugs you take the longer they will stay in urine. And this in turn increases its chances of being found.
Does Ritalin show up on a urine test?
Drug testing strips such as the Ritalin drug test are the most commonly used drug screening tool today. Whether you're using it on your own or in workplace testing odds are you will be using drug testing strips such as these. Their simplistic design has seen them incorporated into tests such as dip cards and testing cups.
A Ritalin drug test is created to detect all traces of Ritalin within your urine, so to answer the aforementioned question, yes it will show up on a urine test. The drug testing strips we are talking about here are highly adept at finding traces of drugs. Boasting a 99% accuracy rating you can be sure they will find the drug they are looking for.
Instructions for Ritalin urine drug test
Bring tests, specimens, buffer and/or controls to room temperature (15-30°C) before use, then just follow few simple steps.
Open: Remove the MPD Drug Test Stripe from its sealed pouch, or remove one strip from the canister, and use it as soon as possible. For the best result, the assay should be performed within an hour.
Dip: Hold the strip by the end, where the product name is printed. To avoid contamination, do not touch the strip membrane. Dip the test strip in the urine specimen for at least 10-15 seconds. Do not immerse past the maximum line (MAX) on the test strip.
Wait: After the test has finished running, remove the strip from the specimen and place it on a non-absorbent flat surface.
Read: Start the timer and wait for the colored band(s) to appear. The result should be read at 5 minutes. Do not interpret the result after 10 minutes.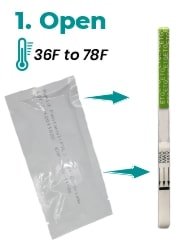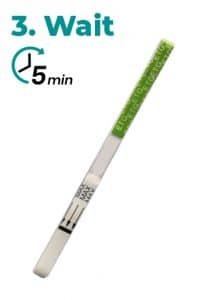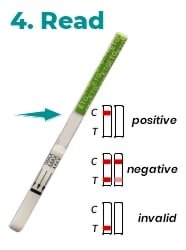 How to read MPD test strip results