Hydrocodone drug test
This hydrocodone test uses the testing strips technology as do most testing devices in modern drug screening situations.
Devices such as dip cards and test cups all use built-in drug test strips in order to find what they are looking for.
These strips are a cost-effective and reliable alternative to most other drug testing tools on the market.
Aside from this obvious advantage, the test strips used to make the Hydrocodone urine test are highly precise.
Boasting an impressive 99% accuracy rating, these test strips are quite capable of finding any and all traces of Hydrocodone in your urine.
Does hydrocodone show up on drug test?
A Hydrocodone drug test like most other drug testing devices in use today is based on an affordable and reliable urine testing method.
Mostly due to the fact that urine is capable of storing traces of drugs for several days after the effects of the drug have worn off and now only traces of it remain.
Most drug testing devices present on the market today are at least based on the urine testing method.
Combined with the perks that urine provides for drug testing, an affordable price tag is also a key factor.
Making it easier to get into the hands of everyday people who want to control their drug levels as well as into professional institutions.
Instructions for HCO test
Bring tests, specimens, buffer and/or controls to room temperature (15-30°C) before use, then just follow few simple steps.
Open: Remove the HCO Drug Test Stripe from its sealed pouch, or remove one strip from the canister, and use it as soon as possible. For the best result, the assay should be performed within an hour.
Dip: Hold the strip by the end, where the product name is printed. To avoid contamination, do not touch the strip membrane. Dip the test strip in the urine specimen for at least 10-15 seconds. Do not immerse past the maximum line (MAX) on the test strip.
Wait: After the test has finished running, remove the strip from the specimen and place it on a non-absorbent flat surface.
Read: Start the timer and wait for the colored band(s) to appear. The result should be read at 5 minutes. Do not interpret the result after 10 minutes.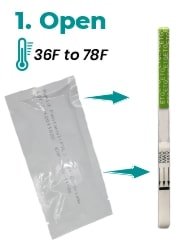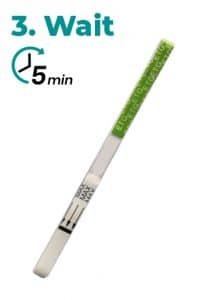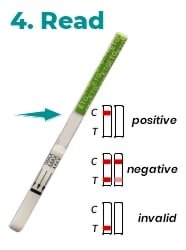 How to read testing strip results
Hydrocodone and drug test's
What does hydrocodone show up as in a drug test?
Simple, it shows up as an opioid.
This is actually no surprise, considering that hydrocodone is the most prescribed opioid in the US today. Usually, this drug is marketed as Vicodin.
It is considered a very powerful painkiller used in cases of immense pain after surgery.

Like with most painkiller opioids in the US, hydrocodone is often abused and overused after the prescription has stopped working.
A hydrocodone drug test is created to give patients the ability to track drug levels in their system. Which is also a good way to keep dependency from growing from the drug. 

Hydrocodone test summary
In order to summarize, the Hydrocodone urine test is an affordable, and reliable testing device which uses the urine testing method.
Aside from this, the test is also easy to use provided the instructions are followed. When using these HCO Test Strips be careful to always read the instructions in detail.
Do remember that, if the instructions provided with the device are not followed a false positive result may occur.
The Opioid crisis has made using tests like the hydrocodone urine test a necessity in order to prevent addictions as well as overdoses.
If you know someone who has developed an addiction or you yourself have found signs of this happening please try to find help.
If someone has shown signs of an overdose please call 911!