4 Panel Urine Drug Test
The 4 panel urine drug test dip cards are a unique drug testing device made to test for 4 specific drugs. It is a highly efficient and precise device, able to detect traces of four different drugs with a 99.9% accuracy rating.
Their unique design makes them very easy to use and a perfect drug testing instrument for personal use.
Drug testing dip cards such as the 4 pane drug tests are an easy way of testing, it is quick and quite cost effective. The build of these 4 panel drug tests makes using them a breeze.
All the customer needs to do is administer a urine sample and then dip the cards into the urine. The testing strips built inside the dip card will do the rest.
These cost-efficient and highly accurate drug testing devices adhere to SAMHSA cutoff levels, making them pinpoint precise.
| | | |
| --- | --- | --- |
| Drug Name/Abbreviation | Cut-Off Level | Detection time |
| Cocaine/COC | 300 ng/mL | 1-2 Days |
| Marijuana/THC | 50 ng/mL | 5+ Days |
| Morphine/OPI-MOP | 300 ng/mL | 2-3 Days |
| Methamphetamine/mAMP (or MET) | 1000 ng/mL | 2-4 Days |
The drug testing strips inside the 4 panel drug test provide a high accuracy rating for traces of four specific drugs.
Cocaine drug test – these testing strips are more than adept at finding traces of cocaine in your urine, their accuracy rating is extremely high.
Marijuana test strips – Searching for THC, these test strips do a fantastic job at locating any traces of the drug in your urine.
Morphine drug test – Morphine drug testing strips are highly adept at finding any traces of the drug in your urine, they can be used as strips alone as well.
Met drug test – Met drug testing strips test for meth or methamphetamines in your urine, these strips do an amazing job at locating any traces of the drug.
How to use 4 panel drug test?
The 4 panel drug test along with the administered urine needs to be brought to room temperature or 36 to 76 degrees Fahrenheit. In order to do this, refrain from opening the packaged test until you are ready to use it and then:
Open: Remove the test from its packaging when ready and use it as soon as possible
Dip: Dip the sample pad area of the dipstick card in the urine specimen, submerging only up to the "MAX" mark of the dipstick strip or the edge of the dipstick card. Wait from 10 to 15 sec until you pull out dip card and go to the next step.
Wait: Place the device on a clean and level surface and wait for 5 minutes
Read: Following the instructions on how to read the test, take a look at the membranes of the strips, keep a close eye on the C and T markings.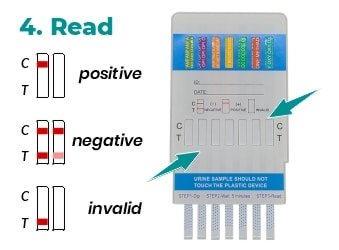 What is a 4 panel drug abuse test?
A 4 panel drug test is a unique dip card drug testing device designed for easy usage as a drug abuse test with high precision.
The strips that are built into the 4 panel drug test are highly reactive and can find any traces of the drugs listed (OPI /300,  COC /300, THC/ 50, mAMP/1000).
In case of a larger number of people to test, these 4 panel drug tests work perfectly as a workplace drug testing device.
They are also frequently used in medical institutions and any bulk testing sites. Their ease of use makes them a perfect choice for quick testing needs present in both high quantity testing and personal testing.