3 Panel Drug Test
A 3 panel drug test is a unique 3 panel urine test device that tests for three specific drugs. It's design is meant to be used as a dip card.
Meaning you dip the device into urine and then the 3 panel drug test starts doing its job. These dip cards are perfect for personal use, they are easy to use and quite intuitive.
The 3 panel drug test holds special testing strips within it. Each of these strips tests for a specific drug with a high level of accuracy.
The 3 panel drug test boasts a 99% accuracy rating because of the individual strips built into the dip card. The morphine drug test strips alongside the cocaine drug test strips and the marijuana testing strips all add range to this testing device.
| | | |
| --- | --- | --- |
| Drug Name/Abbreviation | Cut-Off Level | Detection time |
| Cocaine/COC | 300 ng/mL | 2-4 Days |
| Marijuana/THC | 50 ng/mL | 1-3 Days |
| Morphine/OPI-MOP | 300 ng/mL | 2-3 Days |
Considering the 3 panel drug test holds different testing strips, it tests for three different drugs in particular. The built-in marijuana testing strips test for traces of THC with a high level of accuracy. The cocaine drug test strips test for traces of cocaine and do this job quite well and finally, the morphine drug test strips find any traces of morphine.
How to use 3 panel drug test?
The 3 panel drug test along with the administered urine needs to be brought to room temperature or 36 to 76 degrees Fahrenheit. In order to do this, refrain from opening the packaged test until you are ready to use it and then:
Open: Remove the test from its packaging when ready and use it as soon as possible
Dip: Dip the sample pad area of the dipstick card in the urine specimen, submerging only up to the "MAX" mark of the dipstick strip or the edge of the dipstick card. Wait from 10 to 15 sec until you pull out dip card and go to the next step.
Wait: Place the device on a clean and level surface and wait for 5 minutes
Read: Following the instructions on how to read the test, take a look at the membranes of the strips, keep a close eye on the C and T markings.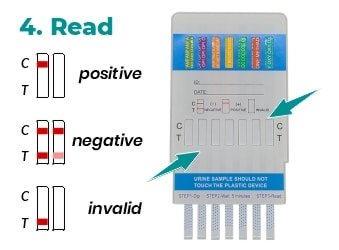 How to read drug test dip card
3 panel drug screen
3 panel drug screen dip cards are a fully realized and cost-efficient multi-drug test panel. They are great for personal use, workplace testing, and medical institutions. The 3-panel drug test is a uniquely budget-friendly drug testing device. Which offers a long shelf life as well as fast and accurate results.
The best part about the 3 panel drug test is that it is a one-step process from administering the test to getting the results. There isn't any complicated system in place, the only thing that is needed is a urine sample and for the card to be dipped into the urine. Within five minutes the test results will show up and job done
These 3 panel drug tests are the perfect tool for everyday use, if you want to find out if you have traces of the three mentioned drugs pick up one of these tests. They are really affordable and easy to use. You couldn't wish for a simpler way to test out your urine than this.